Brave web browser review
Date: 2022-07-11
---

  "Brave is on a mission to fix the web by giving users a safer, faster and better browsing experience while growing support for content creators through a new attention-based ecosystem of rewards."--
-- "Brave is built by a team of privacy focused, performance oriented pioneers of the web, including the inventor of JavaScript and co-founder of Mozilla." -- Brave Software, Inc.[1]
  Of late, I've been dabbling some with the Chromium based browser Brave. My history with web browsers has primarily existed within the sphere of Mozilla and NetScape, and some with the old Internet Explorer. I've managed to avoid Chromium based browsers as a primary web platform until now.
This is not exactly a thorough review. My review here is limited by my use case, so such features as the BAT token are meaningless to me, so there may be a gap in some aspects of the browser for this review.
Let's take a look at some of the things that sets Brave apart.
---
The user interface
  Nothing really stands out here. It looks like Chromium to me with a few minor tweaks. I appreciate the scroll box buttons for the scroll bar! However the settings manager is handled within a web page tab, and it's difficult to locate specific options and features without having to resort to the search box.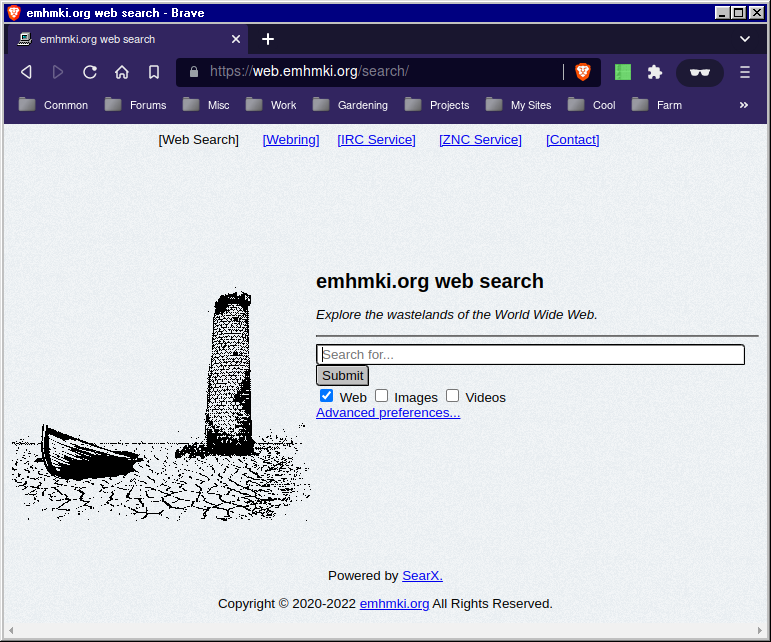 Click on image to see full screenshot
The download manager, like the settings manager, is also handled within a web page tab instead of its own dedicated window. You can open the tab in its own seperate window, but it's a little clunky and wastes vertical space by including the tab, address, and bookmark bars.
The bookmark manager is also the same situation, opening within a browser tab instead of a dedicated window. This makes every click of a bookmark open in a tab within the same window you would otherwise try dedicating as a bookmark manager. A bookmark sidebar would also be acceptable, but a separate floating window that can be alt+tab to would be best.
The system print dialogue is also hijacked by an in-browser printing window. Fortunately you can still use the system print dialogue, but you'll have to drill down a menu to get to it. There is no setting that I can find that would disable the false print dialogue.
The security padlock is also not very communicative of a websites security level. For example, does the site use extended validation? Is there mixed-content? It's also not very helpful that by default the address bar hides the HTTP(S) extension and "WWW" sub-domain of a URL. This behavior defeats all sense in keeping an address bar if it isn't accurate, which is likely the point.

This isn't very useful.
---
Notable features
• IPFS Protocl support
You can navigate to IPFS based sites since the protocol is supported, which is niffty, but I haven't yet found any reason to go to such sites.
• Built in ad-blocker
There's also a built in ad blocker, which appears to function well for the most part. This also includes some very basic script blocking too, which is just a javascript toggle. It would be nice if you could selectively choose scriptlets to block like nMatrix.
• Redirect to archive
On occasion if a website is down, Brave will redirect to an archive of the site. This could be expanded upon to include other archives, but so far hasn't.
• Clip board
One more notable feature of brave is the option to "paste as plain text." Now if only there was an option to copy in plain text!
---
Extensions
  Brave relies on the Google Chrome store for extensions, which I don't consider a positive thing. The Chrome store is a "free" service which can be cut-off at any moment for any Chromium derivatives just like their account sync service[1]. You can however manually install extensions by enabling developer mode, but these require manual updating too. Brave needs to hop on this and setup their own Extension platform before it's too late.
---
Limitations
  It's quite limited in configuring the appearance of the browser, such as repositioning the nav buttons, tab bar, interface fonts, or even skins.
There is also no auto-scrolling function, so scrolling down a long page is just going to take multiple spins of the scroll wheel. RIP anyone with arthritis.
There's no way to disable the text auto-selection when clicking in the address bar. This becomes irritating when using the Unix / Linux primary selection standard for copy and pasting of text. Since it auto-selects the text upon activating the address bar, your previous primary selection is replaced.
There's no option to disable webp format hijacking of saved image files. If you attempt to save an image, there's a good chance it will hijack the format and convert it to webp. This is dishonest functionality and not the correct way to introduce a new image format.
Some menus are cut off if the browser window is either too small, or the menus are very long, which can impact some functionality if the browser is kept in a smaller window. Extensions are also affected by this issue too. This should probably be fixed because it shouldn't be assumed that every user is going to run an application completely maximized. This is after all a desktop application where multiple floating windows is a thing unlike a phone.
---
Availability
  You can find Brave available for both Microsoft Windows, macOS, and GNU/Linux based operating system distributions.
GNU/Linux based distribution builds
Debian, Ubuntu, Mint
Fedora, CentOS Stream/RHEL
OpenSUSE
Third party GNU/Linux based distribution builds
Alternative GNU/Linux packaging
Snap
Flatpak (not official build)
---
My Brave browser configurations
  Aside from enabling full URL's in the address bar, there isn't that much to drive home about. I keep the TOR network feature disabled, the crypto wallet and rewards disabled, any sort of search prefetching in the address bar, and autofill. I also make sure that the Home button and system titlebars are always enabled.
---
Conclusion
  The overall functionality of the browser is very pedestrian. It's a decent browser for browsing the pitiful state of today's web, capable of handling any script and media heavy web apps. I've used it with MS Teams for office meetings without a problem, and other media heavy O365 applications for the past few months. It hasn't crashed on me once!
The BAT token and crypto market widgets aren't anything I'm interested in. The default search engine is set to Brave Search, which in and of itself isn't much different than other search engines wherein top results are often unwanted products, marketing junk, or otther forms of commercial propaganda.
Thanks for reading.
---
References
1. Update on Google API usage in Chromium
2. https://brave.com/download/
[Return to top]